Jurnal Keperawatan Mersi
(p-ISSN:
1979-7753
e-ISSN:
2746-6000
) is a open access journal published by Prodi Keperawatan Purwokerto Poltekkes Kemenkes Semarang, Indonesia. . 
Jurnal Keperawatan Mersi
is a journal publish original research papers, review articles and case studies focused on : Nursing Research and Evidence Based Study on urban nursing issues. Scope in this journal are Clinical Nursing Care, Community Health Care, Health Education, Case Study.
Publication Schedule : April and October 
Language : Indonesia, English 
OAI Address : http://ejournal.poltekkes-smg.ac.id/ojs/index.php/jkm/oai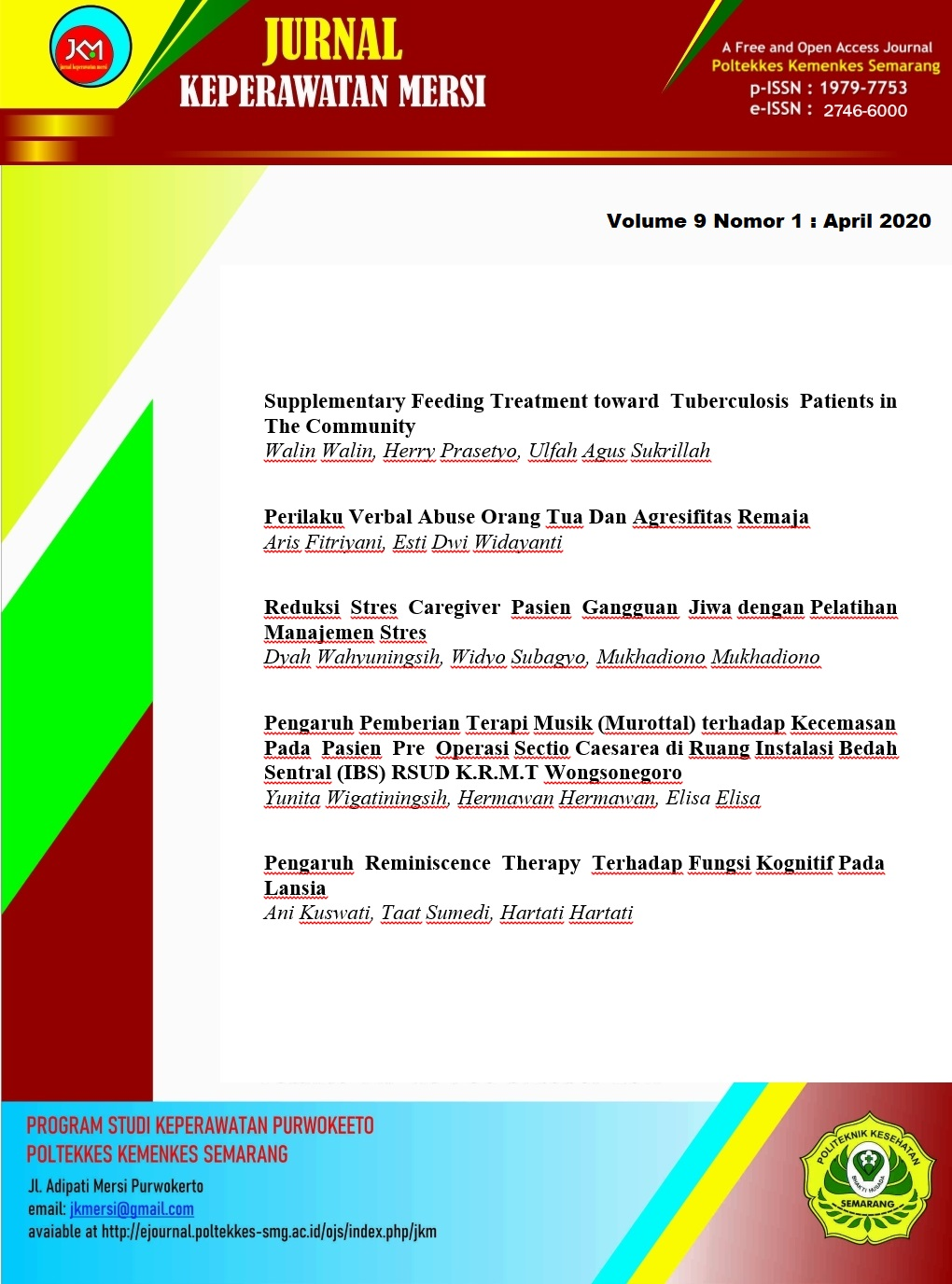 Vol 10, No 2: Oktober 2021
Table of Contents
Articles
| | | |
| --- | --- | --- |
| | Siti Mulidah, Sri Hidayati, Ahmad Baequny | 31-36 |
| | | |
| --- | --- | --- |
| | Ulfah Agus Sukrillah, Herry Prasetyo, Walin Walin | 37-42 |
| | | |
| --- | --- | --- |
| | Supadi Supadi, Widjijati Widjijati, Esti Dwi Widayanti | 43-48 |
| | | |
| --- | --- | --- |
| | Rionaldo Yogi Pradesta, Dian Susmarini, Aris Fitriyani, Maisje Marlyn Kuhu | 49-54 |
| | | |
| --- | --- | --- |
| | Marwansyah Marwansyah, Adi Isworo, Wahyudi Wahyudi | 55-60 |